Oh, you thought awards season was over for college football? Well, yeah, it is, but that does not mean we cannot have a little more fun during what is typically a slow time, right?
In honor of the Academy Awards tonight, here are some selections for College Football Academy Awards. Feel free to share your own College Football Oscar winners or additional nominations in the comments section below.
Best Picture: The College Football Playoff
It is not all that often the year's biggest box office winner takes home the golden statue. In this case, the College Football Playoff did just that with massive TV ratings, the biggest story of the season and dramatic flair on the field with a stellar cast, team of directors, production team, original score and more. Simply put, it was the complete package. Just for good measure, it created its own gold trophy too.
Best Directing: Urban Meyer, Ohio State
The 2014 season has already been regarded by many as his best coaching performance of his career. After losing a potential Heisman candidate quarterback in Braxton Miller before the season started, Urban Meyer managed to put together a championship season few saw coming midway through September.
Honorable mentions: Gary Patterson, Art Briles, Dan Mullen
Best Screenplay: Ole Miss and Mississippi State
Not all great stories end with a happy ending. Ole Miss and Mississippi State each had their moments in the spotlight this season and captivated the college football world in the process. The Bulldogs climbed to No. 1 in the polls and Ole Miss upset Alabama in one of the best seasons of college football in the state of Mississippi in a long time. You really could not script a story like it.
Honorable mention: TCU
Best Drama: Florida State
No team delivered drama the way Florida State did in 2014. The Seminoles entered the season as defending national champions and gave fans reason to live on the edge of their seats from start to finish. No matter the situation, Florida State managed to come up with a win until running into Oregon in the Rose Bowl.
Best Comedy: This Frank Beamer Moment
Virginia Tech beat eventual national champion Ohio State in 2014, but this moment from Frank Beamer may have been the funniest of the season.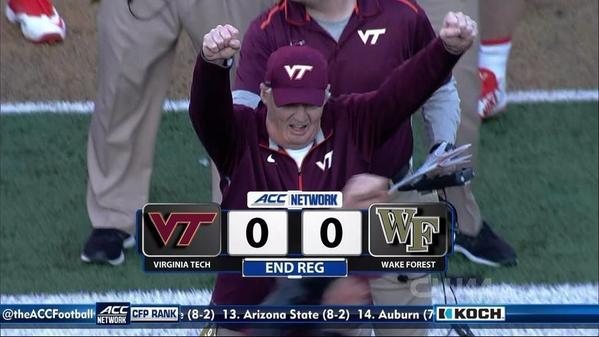 Best Performance in a Foreign Feature: Sam Ficken, Penn State
Penn State opened the 2014 season abroad with a contest against defending American Athletic Conference champion UCF in Ireland. Kicker Sam Ficken gave the Nittany Lions a last-second victory with a 36-yard field goal as time expired for a 26-24 win. Ficken was four-for-four on field goal attempts (and two-for-two on extra point attempts) in the season-opening win across the Atlantic Ocean.
Best Documentary: "Brian And The Boz"
ESPN added a couple of new documentaries to its 30 for 30 series that would be of interest to college football fans. The feature on former Oklahoma Sooners standout Brian Bosworth was a good one, but you could not go worn with "Rand University," which profiled the early days of Randy Moss.
Best Original Score: "The Victors," Michigan
Michigan may not have had much to celebrate in 2014, but "The Victors" remains among the best of the best when it comes to college foght songs. Why some Michigan students feel a need for a new fight song is beyond me.
Best Original Song: Anything but "Centuries"
You heard it all season long during commercials and in-game promos and possibly more. Fall Out Boy's "Centuries" was dumped on you the viewer from start to finish last season by ESPN to tie into the College Football Playoff. Here's to a new season, when another song will undoubtedly be crammed down our ears all season long.
Best Costume Design: Nike and Oregon
Sure, I may be more of a traditionalist when it comes to uniforms, but you have to hand it to Oregon and Nike. The pair continues to set the standard for modern day uniform design that many attempt to emulate. The combo of Nike and Oregon has been named the top uniform by many outlets including USA Today and Bleacher Report.
Best Visual Effects: Army-Navy Game Pregame Card Stunt
The pageantry surrounding the traditional Army-Navy Game is unrivaled in college football even by the bets of rivalries, but the pregame card stunt is often one of the more stunning visuals seen during the college football season and pictures can only do so much justice.
Helmet stickers to The Academy: Reddit, Twitter