Yes, I know — another meaningless preseason poll tossed atop the overflowing pile of myriad other meaningless preseason polls. Hey, but at least this one isn't SEC-heavy, so we have that going for us, which is nice.
OK, technically it's not as SEC-heavy as others as this one contains "just" six teams from that conference and just two in the Top 10, the same number that comes from the Pac-12 for the former and one less than that league's three in the latter.  For comparison's sake, the preseason coaches' poll included eight teams from the SEC (three in the Top 10), while the FWAA Super 16 poll saw five teams man those 16 spots (three Top 10 as well).
The Big 12 and Big Ten are also well-represented here, with four teams apiece making the cut.  The ACC brought up the Power Five rear with three teams included.
Rounding up the Top 25 conference-wise was one from the football independents (guess who!) and just one, Boise State, from the Group of Five.
Below is the entire Top 25, which was a consensus of polls cobbled together by myself, Kevin McGuire and three other individuals who would prefer to remain nameless.  Below that is where you may complain and/or whine and/or moan about how disrespected your team and/or your conference is.
Enjoy.  And complain/whine/moan.
1. Ohio State
With all due respect to those who think otherwise, how could any other be team be slotted in this spot? Not only are they the defending national champions who topped the Nos. 1 and 2 teams in the country to end the season — not to mention putting a 59-0 Big Ten title game pasting on a Wisconsin team that finished the season ranked 13th — but the Buckeyes return 15 starters from that squad. And then there's the schedule. After a season-opening road trip to Blacksburg to take on Virginia Tech, the only team to leave a blemish on last year's 14-1 mark, OSU will be double-digit favorites in every game leading up to the Nov. 21 home game against Michigan State. A repeat is far from a given, but given the combination of returning talent and schedule, it's a given the Buckeyes will have a realistic shot at going back-to-back.
2. TCU
With Trevone Boykin back leading the offense as a Heisman Trophy favorite, you know the Horned Frogs should have plenty of sizzle on offense. TCU returns 10 starters on offense, and Gary Patterson should manage to keep the defense up to par to live up to Big 12 favorite hype. TCU could very well run the table this season, assuring the Big 12 of not being left out of the playoff this season.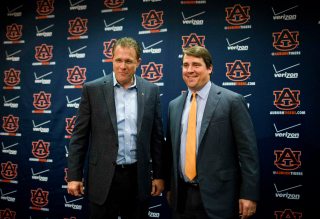 3. Auburn
As detailed in the Six-Pack of Storylines, the SEC's hope for a return to Title Land could very well hinge on the Tigers.  And the Tigers return to prominence could very well hinge on Will Muschamp, the fired Florida head coach who was brought in by Gus Malzahn to revamp and rebuild an AU defense that spewed water and oil all over the field in 2014.  The run-heavy spread offense should be in capable hands, even with new triggerman Jeremy Johnson under center; how the defense fares with Muschamp as its general will determine just how far Malzahn's troops will go in 2015.
4. Oregon
The Ducks may still be the team to beat in the Pac-12, but the gap could be closing between Oregon and other Pac-12 contenders. Gone is Marcus Mariota but the offense should continue to pile up big numbers with FCS transfer Vernon Adams likely stepping in. There could be a bit of an adjustment, and an early road contest at Michigan State could be trouble, but Oregon should still manage to be among the best out west.
5. Michigan State
The Spartans have one of the best quarterbacks in the country in Connor Cook, a stout offensive line and, despite the loss of coordinator Pat Narduzzi and all four "No Fly Zone" starters in the secondary, one of the top defensive in the Big Ten, but could still find themselves anywhere from a one-loss team to one with three or more.  Why the latter projection?  One, they have to replace their top two running backs.  Two, their schedule includes road trips to Ohio State, in-state rival Michigan and Nebraska, as well as a home game against an Oregon team in Week 2 that will be a consensus Top-Five squad.
6. Arizona State
In a conference with plenty of quarterback talent, Arizona State's Mike Bercovici could be one of the best. With a sturdy offensive line in front of him, Bercovici will still have to build some new chemistry with his receivers, but D.J. Foster is back and he can provide some options in Todd Graham's offense. Defensively the Sun Devils bring back seven starters and should be one of the more stable defensive units outside of Utah and Stanford.