Make room, Boise State. Your long-standing title of "Most Garish Unique Playing Surface in College Football" is about to officially be challenged.
After opening the year with one game on the road and another at Qwest Field in Seattle, Div. 1-AA (FCS) Eastern Washington will play their first game of the new season at Roos Stadium. And against Montana, the Eagles will do so not on the natural grass surface they've become accustomed to over the years; rather, they'll do so on a Sprinturf field.
A red Sprinturf field.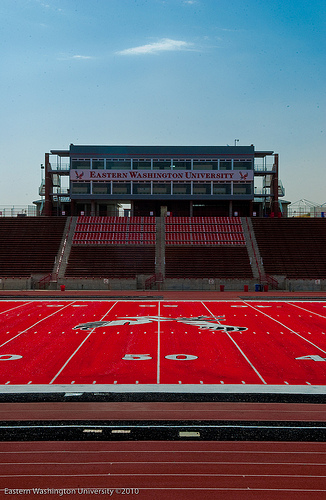 Yep, that's as red as advertised.
The school announced back in late January that they would be installing the red surface in time for the start of the upcoming season. Tennessee Titan offensive lineman Michael Roos, who graduated in March of 2005 after starting 35 straight games at tackle for the Eagles, donated $500,000 of his own money toward the project; subsequently, the name of EWU's home stadium was changed from Woodward Field to Roos Field.
The total cost of the resurfacing ran upwards of $825,000.
Much like the reasoning behind Boise State's move to the Smurf Turf back in the mid-eighties, EWU made their drastic change to both give some attention to their low-profile program and, possibly, give themselves a little bit more of a home-field advantage.
"Boise wears blue uniforms on their blue turf, and it seems to work for them," third-year head coach Beau Baldwin said back in late August. "We're going to look at some different uniform options, ourselves, to see if one color gives us an advantage over another. …
"If we can create any kind of additional home-field advantage by wearing a certain color uniform, we're going to do it.
"Why wouldn't we?"
The Broncos are 38-1 at home the past five years; if the Eagles can even remotely approach that number, the red turf will have been worth every last cent of the money spent on it. Regardless of how many menstrual jokes — Didn't play well in a home loss? Well, it was that time of the month — are made at their expense and you know damn well are in the offing from opposing fans.