In Buffalo, it was massive snowstorm that first caused the postponement, then the rescheduling, and finally the cancellation of a MAC football game this week.  Saturday, it will be a different weather system affecting an AAC contest.  And, possibly, a Big 12 one as well.
Friday, Houston announced that the kickoff time for Saturday's game against Tulsa has been moved up.  Instead of putting foot to pigskin at 2:00 p.m. ET, the start will come three hours earlier at 11 a.m. ET (10 a.m. local time).
From the UH's press release:
Administration from the University of Houston Department of Intercollegiate Athletics has been in consultation with the National Weather Service, the American Athletic Conference and the University of Tulsa in making the decision to move Saturday's game time.
Courtesy of the Weather Channel, here's Saturday's forecast: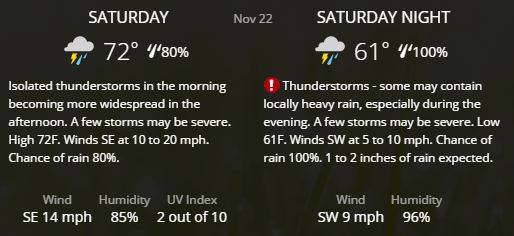 It's not just Houston, either, when it comes to the potential for severe weather in the state of Texas that could impact games.
Baylor and North Texas both play at home in Week 13. Especially when it comes to the former's game against Oklahoma State tomorrow night, heavy rain — and perhaps thunderstorms — could be an issue during the contest, with talk that kickoff for BU-OSU could be moved as well.
According to ESPN.com's Brett McMurphy, not only is an adjustment of the kickoff time being discussed, but there's also talk of moving the game to Sunday. That, though, would be "a last resort" a source told McMurphy.
UPDATE (5:45 p.m. ET):  Baylor University released a statement Friday that Saturday's contest against the Oklahoma State Cowboys will proceed as planned.
BREAKING: Baylor's game vs. Oklahoma State will be played as scheduled at 6:30 p.m. Saturday. #SicOSU #EveryoneInBlack

— Baylor Football (@BUFootball) November 21, 2014