Just recently, Miami was among the schools partnering with Adidas to show off the brand new uniforms for the new college football season using an updated uniform template from Adidas. But Miami and Adidas had something special to reveal a little bit later.
On Monday, Miami pulled back the curtain on a brand new uniform that was designed to be environmentally conscious by using repurposed and recycled materials. The uniforms are in partnership with Parley For The Oceans, which focuses on protecting ocean water and raising awareness of how much plastic gets deposited in the oceans every year.
"Our players and staff are excited to wear the new Adidas Parley jerseys and gear for our season opener. We're also excited that Adidas and Parley are teaming up with UM to help promote sustainability around the world," Miami head coach Mark Richt said in a released statement. "Community service has always been an integral part of our football program, and this partnership with Adidas and Parley helps us continue those efforts."
Built off the foundation of the new Adidas Primeknit template, Miami's "The U'S" uniform is highlighted by an accented pattern on the numbering, sleeves, and pants. From a distance, you may not be able to tell the difference between this uniform and Miami's standard home uniform. A closer inspection may be required to see the finer details of this particular design.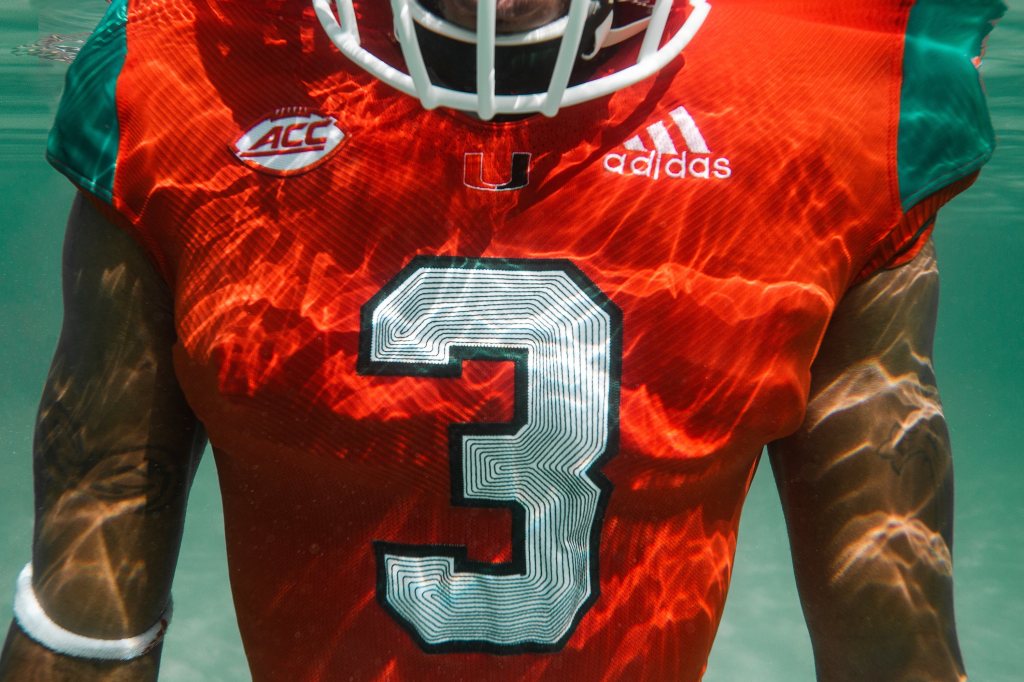 Miami will wear these special uniforms for the season opener on September 2 against LSU in Arlington, Texas. The uniforms will be auctioned off to raise money to support the Rosenstiel School of Marine and Atmospheric Science.