To just do it or not do it, that is the question now facing one nascent member of the Football Bowl Subdivision.
Nike is the apparel company of Liberty, which this year is in its first season in the FBS and is coming off of its first win at this level.  That same apparel company, you may have heard, announced earlier this month an ad campaign that heavily features Colin Kaepernick, the former Nevada quarterback who's national anthem protests two years ago sparked both controversy and a raised awareness of police brutality and racial inequality.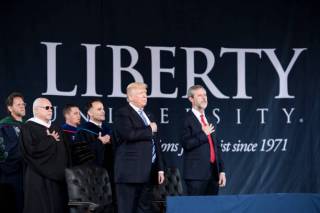 Because of the ad campaign that celebrates the 30th anniversary of the "Just do it" slogan, Jerry Falwell Jr., Liberty University president and staunch supporter of very vocal Kaepernick/anthem protest critic Donald Trump, confirmed to Dan Wolken of USA Today Sports that he is "exploring" the school's relationship with Nike.
"It's just something we're exploring," Falwell told Wolken. "It could be a marketing ploy and if it is, we will probably overlook it. But if it's really how the leadership of the company feels and they're attacking law enforcement and military folks on purpose and then why deal with them when there's plenty of others out there. …
"[W]e strongly support law enforcement and strongly support our military and veterans who died to protect our freedoms and if the company really believes what Colin Kaepernick believes, it's going to be hard for us to keep doing business with them. … [T]hey're going to have to convince us that they're not proactively attacking law enforcement officers and our military."
According to Wolken, Liberty signed a deal with Nike last year that runs through 2024.  Wolken writes that "Falwell said he didn't immediately know the terms of the contract with Nike that would trigger termination."
More than 50 percent of FBS schools have a business relationship with Nike, including Alabama, Clemson, Florida, Georgia, LSU, Michigan, Ohio State, Oklahoma, Penn State, Texas and USC.  None of those schools have commented on the Kaepernick ad and what if any effect it would have on its relationship with Nike once their contracts have expired.
Divining any future relationship with Nike, of course, is as easy as following the money.
"It's big money and money talks," said Bob Dorfman, creative director of San Francisco-based Baker Street Advertising, told USA Today in an article yesterday. "These schools are getting a pretty penny from Nike and Nike, in turn, is probably getting a good return on their investment. Also, what's the alternative?"
Whether alternative companies such as Under Armour and adidas can in the future benefit from the controversy by seeing schools flee Nike and the Kaepernick association is still to be determined.