As is the case each and every season, each and every week, any omission below is not on purpose, it's merely intentional.
WINNERS
A true American hero
If you don't know the story of Daniel Rodriguez, you are truly missing out on one of the most inspirational narratives of the 2012 college football season. Short version: Rodriguez's father passed away mere days after his son graduated from high school, a tragic turn of events that pushed the aspiring college football player into a military career.  Rodriguez ultimately served two tours of duty in the Middle East — one in Iraq in 2007 and another in Afghanistan in 2009 — and received the Bronze Star Medal of Valor and the Purple Heart for his time during the latter tour.  After leaving the military, he worked his way into becoming a walk-on wide receiver at Clemson.  On Saturday, Rodriguez caught the first pass of his collegiate career [/goosebumps], a mere four-yard reception during the No. 12 Tigers' 52-27 beatdown of Ball State that was the culmination of well over five years of hard work, dedication and sacrifice.  God bless you, Daniel Rodriguez, for what you've done for this country and for the inspiration that you've surely become to the countless individuals who've become aware of your uplifting story over the past few months.
No. 1 holds serve. No. 2? Meh
No. 1 Alabama and No. 2 USC were favored by a combined 64.5 against Western Kentucky and Syracuse, respectively; only the former truly held up its end of the bargain.  The Tide, which vaulted past the Trojans into the top spot in the polls following its season-opening thumping of Michigan, had little trouble with 39-point underdog Western Kentucky, easily handling the Hilltoppers 35-0 in posting its fourth shutout in the past 15 games.  Quarterback AJ McCarron was again his quietly productive and efficient self, passing for 219 yards and four touchdowns in the win, while the Tide defense limited WKU to 224 yards and just 1.6 yards per rush attempt.  The Trojans, on the other hand, struggled mightily for 45 minutes against Syracuse in a "neutral-field" game in New Jersey.  Leading just 21-16 after three quarters of play, the Trojans ultimately pulled away from the unranked Orange in what became a 42-29 win.  Matt Barkley tied a school record — his own school record — with six touchdown passes, although he may have lost his starting center to injury for an extended period of time in what would prove to be a significant development given USC's NCAA-related depth issues.  Add the two results together, and it's very likely the Tide will do nothing but extend its lead over the Trojans when the next set of polls are released early Sunday afternoon.
Buckeyes' Braxton ballin'
Braxton Miller accounted for 296 of Ohio State's 411 yards of offense in the 31-16 win over UCF, the second win in as many tries for first-year OSU head coach Urban Meyer.  And, in those first two games, Miller has essentially been the entire offense for the No. 14 Buckeyes.  The sophomore quarterback has accounted for exactly 70 percent  (664 yards) of OSU's 949 yards of offense the first two games, and has scored seven — three passing, four rushing — of the Buckeyes' 11 touchdowns.  Once again, there was a reason Meyer has been downright giddy over the opportunity to coach Miller, and the player has shown exactly why the first two weeks of the season.
Klein's Cats clobber 'Canes
Yes, it's Alliteration Day here at CFT.  And, yes, this very easily could've put Miami in the opposite category, what with it being the Hurricanes' worst loss since the final game at the Orange Bowl in 2007.  Instead, however, Bill Snyder and Kansas State deserve some plaudits and recognition.  Simply put, the No. 21 Wildcats took The U to the woodshed and throttled their non-conference opponents 52-13.  KSU nearly doubled-up the 'Canes in total offense (498-262); held a Miami offense that had rushed for 208 yards in the opener to just 40; and possessed the ball for nearly 15 minutes more than its competition.  Add in another productive day for quarterback Collin Klein — keep him in mind as the Heisman race creeps into the latter portion of the season — and it totaled a evisceration of the once-mighty U.  It also signaled to Oklahoma, Texas, West Virginia, et al that, when it comes to the race for the Big 12 title, do not overlook Snyder's Wildcats.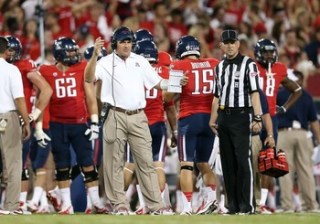 RichRod rises
Hide your eyes, West Virginia and Michigan fans.  He's back… with a vengeance.  After turning his back on his home state, and after nearly running one of the most storied programs in college football history straight into the ground, Rich Rodriguez landed on his feet on the other side of the country, taking over for Mike Stoops at Arizona.  And, in just two games, RichRod has scored the signature win of his brief desert tenure.  In a victory that was as dominating as it was surprising, the Wildcats took control of No. 18 Oklahoma State early on and never lifted its foot off the throat, whipping the Cowboys 59-38.  OSU actually outgained Arizona by nearly 100 yards, but four turnovers and 14 penalties for 157 yards ultimately ended up being the Cowboys' undoing.  Regardless of how or why, though, the magnitude of the win for Rodriguez and the football program cannot be overstated.
LOSERS
Woo pig phooey!!!
With Tyler Wilson on the field, Arkansas was comfortably in control of its game with Louisiana-Monroe, cruising along with a 21-7 first-half lead that grew to 28-7 early in the third quarter.  After Wilson was injured and missed the final two-plus quarters?  All hell broke loose, shattering any hopes the Razorbacks had entertained in pushing its way into the BcS title game picture.  The Warhawks scored the final 21 points of regulation, including a touchdown with 47 seconds left, to send the game into overtime.  After holding the Razorbacks to a field goal on their first possession, ULM scored on a fourth-and-one, a 16-yard touchdown run by Kolton Browning — he of the 481 yards of total offense and four scores — that stunned all of Fayetteville and the whole of college football.  As Ben deftly noted, the 34-31 loss is far from a death knell for UA's SEC title hopes, but it certainly doesn't portend anything other than the Razorbacks once again being a West division also-ran — especially if Wilson is out for any length of time. Oh, remember, Arkansas hosts mighty Alabama next week.
College football
Last week, Savannah State was dropped 84-0 by Oklahoma State.  This weekend, the FCS school entered its game with Florida State as 70-point underdogs — and promptly lost 55-0 in a game that featured a running second-half clock and was then halted in the third quarter because of, ahem, inclement weather.  It was yet another insult to any fan with a lick of common sense.  And it's the kind of scheduling crap that must stop, even as I'm fully aware that the Seminoles had almost no choice after being ditched by West Virginia.  The scheduling of overmatched teams by perennial Top 25 football programs is an embarrassment to the game, especially ones that involves FCS-level teams.  It's a disservice to the sport and to the school's fans, fans who are forced to pay regular-season prices for tickets, concessions, parking, etc. in an in-the-toilet economy for what amounts to nothing more than a glorified scrimmage.  Fortunately, the new playoff system that will be in place following the 2014 regular season, provided the new system as expected has a strength-of-schedule element, should go a long way toward ending the abomination that is games such as this one.  Until then, fans have no choice but to deal with the unsightly gorging on cupcakes in which many a program partakes.  And all the while paying full price as they choke on it.
2012 Big 10 football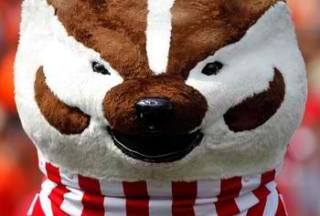 The start of the new season hasn't been kind to the Midwestern football conference.  Michigan was taken to the woodshed in front of a national television audience by Alabama, dropped by the defending BcS champions 41-14 in the opener in a game that wasn't even remotely as close as the final scored may have indicated.  A week later, No. 13 Wisconsin, the odds-on favorite to represent the Leaders division in the Big Ten title game, was stunned by unranked Oregon State in Corvallis, a 10-7 loss that further dented the conference's image nationally.  Not only that, but No. 16 Nebraska was decisioned 36-30 by UCLA of all teams, making the Big Ten the only conference this season to have three ranked teams go down in defeat.  Arguably the most impressive team in the conference two games in has been Ohio State, but the Buckeyes are ineligible for the 2012 postseason thanks to NCAA sanctions.  Add in Penn State's off-field "issues" that have morphed into on-field struggles of epic proportions, and it appears 2012 could be a tough row to hoe for the Big Ten.  Speaking of which, Michigan State, the Big Ten hoe's in your hands apparently.
New kids on the SEC block
It wasn't the debuts for which either Missouri or Texas A&M were hoping.  Both schools were handed home dates for their new-conference openers, and kicked that gift horse square in the mouth.  The Aggies jumped out to a 17-7 first-half lead against No. 24 Florida before channeling their inner Mike Sherman, allowing 13 unanswered points en route to dropping its first-ever game in SEC play.  Likewise, Mizzou held a 17-9 lead in the third quarter before No. 7 Georgia ripped off 24 straight points to spoil the Tigers' inaugural foray into the SEC.  There was a silver lining, however: both teams showed, at least for one game, they can hang with some of the best the East has to offer.  The other division, though, might be a different matter entirely, particularly for West member A&M.
Nittany Lions kicking themselves… or the kicker
I really hate to put Sam Ficken in the "Losers" category, but, damn son.  In the 17-16 loss to Virginia, the kicker missed a total of five kicks — four field goal attempts and one point after try.  Included in that total was a 42-yard attempt with no time left that would've given Bill O' Brien his first win as Nittany Lions head coach; almost as soon as it left Ficken's foot, however, it was destined to sail wide left, leaving O' Brien and the Nittany Lions at 0-2 on the young season.  The way the loss transpired highlights just how devastating the NCAA sanctions were for the football program.  As part of those sanctions, any current player or incoming freshman was permitted to transfer without sitting out a season.  One of the handful of players to take advantage of those liberal transfer policies?  All-conference kicker Anthony Fera, who left for Texas shortly after the penalties were announced earlier this year.
Northeast football fans
The New York/New Jersey area absolutely loves its NFL football.  College football?  Yeah, not so much apparently.  The No. 2 team in the country, USC, and Syracuse played a game Saturday at MetLife Stadium — the new Meadowlands — in East Rutherford, N.J.  Not that you could tell a game was being played by taking a look at the stands, though:
(Photo credit: Los Angeles Daily News' Scott Wolf)
The official attendance was announced at 39,507, which likely included anyone within a quarter-mile radius of the stadium.  Yes, the weather was bad — the game was delayed for more than an hour by storms — but the combination of one of the best teams in the country plus a team from the state of New York warranted a stadium that was, at bare minimum, three-quarters full, not one that was at best at a third of its capacity.
0-2=Uh-Oh
In games at Auburn that Gene Chizik has had Cam Newton under center, the Tigers are 14-0.  In games without Newton, AU is 16-12, including a 0-2 start to the 2012 season.  The latest post-Newton loss came at the hands of Mississippi State, which came away with a 28-10 win in the SEC opener for both schools.  The rumblings were there before the start of this season, and will certainly grow louder with the winless start: can Chizik win at Auburn without Newton?  Add in Chizik's two-year Iowa State tenure, and the coach is 21-31 in games in which the 2010 Heisman winner has not been at his disposal.  It may not be a fair question, but it is a question that many, many individuals will ask in growing numbers if the losing continues.
Did you say "Utes?"
You ever have one of those days where you just knew you never should've even remotely considered getting out of bed?  Friday was that day for Utah.  Not only did the Utes loss to in-state little brother Utah State 27-20 in overtime, but — again — lost starting quarterback Jordan Wynn to yet another shoulder injury.  Wynn missed the the last two months of the regular season last year with an injury to the same non-throwing shoulder.  The loss to the Aggies, incidentally, was the Utes' first since 1996, a streak of 12 straight wins that was snapped by the road defeat.
The state of Colorado
FCS-level Sacramento State 30, Pac-12 member Colorado 28.
FCS-level North Dakota State 22, MWC member Colorado State 7
CFT correspondent Max Cady, take it away…
[youtube=http://www.youtube.com/watch?v=rm81LSKJC2k&feature=player_embedded]
TOP 25 TOO-CLOSE-FOR-COMFORT
How ranked teams endured close shaves vs. unranked opponents
— No. 19 Michigan 31, Air Force 25: An Alabama Slammer hangover?  Whatever the case, the Wolverines were fortunate to come out of the home game without a second-consecutive loss to start the season, with the Falcons giving up the ball twice on downs in the last five minutes.
— No. 22 Notre Dame 20, Purdue 17: With Tommy Rees coming off the bench in his first game back from suspension, the Irish kicked a 27-yard game-winning field goal with seven ticks left on the clock to escape with the win.
— No. 24 Florida 20, Texas A&M 17: Unlike the previous two games, the Gators were expecting a tussle in the Aggies' first-ever SEC game.  And that's exactly what UF got, falling behind 17-7 in the first half before scoring 13 unanswered points to remain unblemished on the young season.
CFT TOP FIVE
A snapshot look at how my ballot would look Monday if I, ya know, had a real vote instead of a measly and meaningless preseason poll.
1. Alabama — The Tide has outscored its first two opponents 76-17, showing no signs of a 2010-style, post-title malaise. (Last week: No. 1)
Up next: at No. 8 Arkansas
2. USC — The ho-hum three quarters of play vs. Syracuse notwithstanding, the Trojans are clearly one of the best teams in the country.  (Last week: No. 2)
Up next: at No. 25 Stanford
3. LSU — Following an impressive waxing of a quality opponent in Washington, I was tempted to move the Tigers ahead of the Ducks.  And I ultimately gave into that temptation. (Last week: No. 4)
Up next: vs. Idaho
4. Oregon — All you need to know about Oregon in Week Two is the Ducks rolled up 383 yards of offense and 35 points in the first half of its win over Fresno State.  Still, I had no choice but to drop the Ducks down a spot. (Last week: No. 3)
Up next: vs. Tennessee Tech
5. Georgia — You go into an SEC member's house — even a sparkling new one — and come out with a party bag that includes a 21-point win, you earn a spot at the big-boy table. (Last week: unranked)
Up next: vs. FAU
HE SAID IT
"It took him seven years and two wars to get his first college reception. But he has no bigger fans than his teammates." — Clemson head coach Dabo Swinney, speaking of a true American hero.
GAMEDAY SIGN OF THE DAY
(via KegsnEggs)
FOR STATISTICAL PURPOSES ONLY
— Denard Robinson rushed for 218 yards, threw for 208 more and scored four touchdowns in Michigan's win.  It was the third time he's topped 200 yards in rushing and receiving in the same game, becoming the first player to accomplish that feat since at least 1996.  Texas' Vince Young did it twice last decade.
— Making his first collegiate start in place of an injured Connor Shaw, Dylan Thompson threw for 330 yards and three touchdowns in No. 9 South Carolina's 48-10 non-conference romp over East Carolina.  Knowing the Ol' Ball Coach's penchant for "shifting directions" at the position, is a quarterback change in the offing for the Gamecocks?
— Clemson's Spencer Benton booted a 61-yard field goal in the Tigers' win over Ball State, setting an ACC record in the process.  Benton bested the old conference mark of 60 yards by Florida State's Gary Cismesia in 2007.  He also broke the school record, which had been 57 yards by two different players.
— Quarterback Collin Klein scored four touchdowns — one passing, three rushing — in Kansas State's rout of Miami.  He also threw for 210 yards on just nine completions.  In the past 15 games, incidentally, Klein has rushed for 30 touchdowns.
— Yes, it came against an FCS-level opponent, but Tennessee's Tyler Bray completed 18-of-20 passes for 310 yards and four touchdowns in the Vols' 51-13 rout of Georgia State.  Justin Hunter, returning from a season-ending injury a year ago, was Bray's top target, catching three of those touchdowns among his eight receptions and 146 yards.
— Damien Williams rushed for 154 yards and scored four touchdowns in Oklahoma's 69-13 win over Florida A&M.  Williams became just the fourth player in school history to rush for more than 100 yards in each of his first two games.
— Wide receiver Andre Davis broke USF's single-game receiving record with 12 catches for 191 yards and two scores, including a 56-yarder from quarterback B.J. Daniels with :38 left that gave the Bulls a come-from-behind 32-31 win at Nevada.
— In Minnesota's drubbing of FCS-level school New Hampshire, Marquies Gray passed for two touchdowns and rushed for two more — in the first half.  As the Gophers were up 30-0, the quarterback watched from the sidelines the second half.
— Nebraska's Taylor Martinez (no relation) had a career-long 92-yard run for a touchdown in the second quarter of the loss to UCLA, a run that was the longest by a Nebraska player since Eric Crouch's school-record 95-yard touchdown run at Missouri in 2001.  On his other 12 carries, by the way, Martinez totaled just 20 yards.
— Louisville's Teddy Bridgewater passed for a career-high 344 yards in the No. 23 Cardinals' 35-7 win over Missouri State.
— Nevada quarterback Cody Fajardo accounted for 405 yards of total offense — 271 passing, 134 rushing — in the loss to USF.
— TCU quarterbacks Casey Pachall and Trevone Boykin combined for 17-of-17 passing in the Horned Frogs 56-0 win over Grambling State. Those numbers represent an NCAA record for most team attempts without an incompletion. The previous-best mark was 12-of-12 in 2002.
— With one against Stephen F. Austin Saturday, SMU's Margus Hunt has now blocked nine field goals in his career, a new NCAA record.  In addition to the fied goals, the 6-8 defensive end has also blocked six extra point attempts.
— Ohio State senior cornerback Travis Howard intercepted three passes in the first six quarters of the young season — two in the opener against Miami of Ohio, one in this weekend's win over UCF.
BEST WISHES…
… for a speedy recovery to Tulane safety Devon Walker, who suffered a fractured spine in a horrific teammate-on-teammate collision during the loss to Tulsa.  The senior was on the field for several minutes before being taken to a local hospital for further treatment.  In a statement, Tulane stated that Walker "is in traction with a lot of swelling in his neck" and "the current plan is for him to have surgery in the next one to two days."  From all of us here at CFT, from Ben and I to our readers, many prayers and much positive energy are extended for a full recovery for the young man.